Best ways to protect your rental property in Bloomington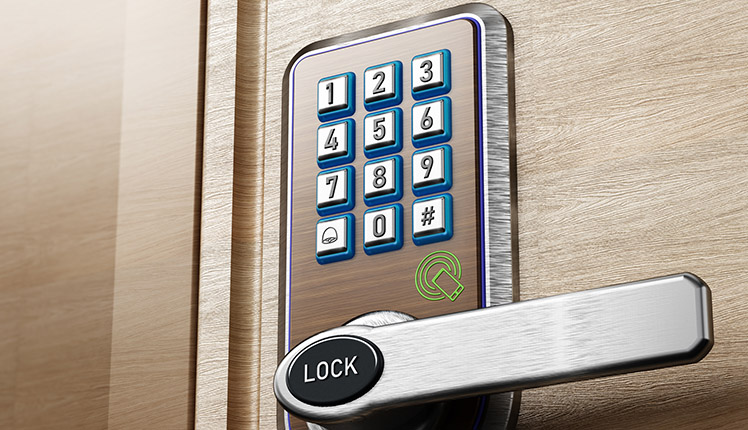 Regardless of whether you rent out your family's cottage or have an assortment of Airbnbs, you may find it a challenge to protect your rental properties in Bloomington. Due to the continual flow of guests, it's simple to lose a key when someone leaves or find yourself no longer in possession of a valuable belonging. And what should you do if there's a flood or fire at the property while you're offsite?
From enhanced locks to completely automated home security packages, here are some top recommendations on how to protect your Airbnb in Bloomington.
Don't worry about keys when you use smart door locks
When a visitor vacates the premises, they could follow your instructions and provide the keys for the ensuing occupant. On the other hand, if they grabbed or made a copy of a key, it would be possible to access your place again sometime in the future. Needless to say, you have the option to switch out your locks after a key is "misplaced", but that creates delays and cuts into your revenue.
Fortunately, you are now able to put in smart locks that function along with your home security system to put these concerns at ease. You can then give every guest their own unique entry code. When your occupants depart, don't worry about an exchange of keys. You can simply customize the codes to no longer work when they exit. If former inhabitants return and attempt to use their previous access code on the number pad, you will receive a notification on your smartphone.
Smart home technology makes available rentals look occupied
The goal is that your Bloomington rental property will be occupied, but that isn't likely to always be true. However, you need to make it seem that people are present so your rental isn't a potential target for burglars. Incorporating a security system with home automation gives you the chance to benefit from smart lighting, motion detection equipment, and surveillance systems that make your lodging seem occupied.
Start by scheduling your smart lighting to turn on at particular times of the night. Then, use your security smartphone app to alert you if your cameras detect someone hiding in the dark or approaching the front door. You then are able to employ the 2-way talk capability to make them aware that you're watching or arrange for your lighting to instantly turn on when a surveillance device or motion sensor discerns suspicious activity.
Protect your Bloomington rental property with 24/7 monitoring
Your occupants will be more relaxed if they feel protected from intruders, specifically when Bloomington is not familiar to them. In the event a thief tries to invade your property, your home security system will not only initiate the alarm siren but will also notify your 24-hour monitoring agents. Even if you're not available, help will be on its way. Your monitoring experts can even act as your primary contact and communicate with you when you're able.
In addition to intrusions, your monitoring center can link to fire alarms, flood sensors, and carbon monoxide detectors. It would be understandably harrowing for your visitor if a water heater springs a leak or a fire breaks out. You not only will get a cell phone alert that a potentially dangerous event has occurred, but the monitoring agent can also coordinate emergency services while you're in transit.
Order a modern home security package in Bloomington
Protect your rental property in Bloomington when you get a state-of-the-art home security system. Luckily, Vivint provides options like smart lighting, smart locks, and 24-hour monitoring. Touch base with us today and our home security experts will design a system that's perfect for your property. Dial (812) 579-4884 or submit the form today!
Cities Served Around Bloomington By Smart Security Specialists Your Local Vivint Authorized Dealer